Home
>> Who is Caribbean & Sun?
A professional, multinational team based in the Caribbean
Caribbean & Sun is a product of Wildlife Expeditions International: A company with a multinational team and an office based in Grenada, West Indies, since 1998. We are specialists and concentrate on a few places in the Caribbean only - the most beautiful ones: Grenada, the Grenadines, Tobago, Trinidad, Martinique, Guadeloupe, Dominica Antigua, Saint Lucia and Guyana in South-America.
The fact that we are located directly in the Caribbean is advantageous for you for four major reasons:
A unique choice
With Caribbean & Sun you have a choice of holiday packages, hotels, guesthouses, villas, apartments and cottages you will hardly find somewhere else. We constantly check the available accommodations and services on each island and carefully select for you the best. The Insider Tips for example. Or packages for active holidays off the beaten tracks and the mass tourism..
A quality you can rely on
We always have an eye on all those providing services on our behalf. You can be sure that everything we promise in our descriptions will be available. If anything doesn't go like it should or if any changes occur we act instantly. By that we make sure that you will enjoy a nice, carefree holiday without bad surprises. And should anything not correspond to your expectations: Our Caribbean office is just where you are spending your holiday instead of being far away on an other continent. That means that you always have a competent person to return to on the spot.


worldwide network
Caribbean & Sun has a network of partners in different parts of the world. With these tour operators you can book everything you find on this website in your home country.
Austria
Verkehrsbüro - Ruefa Reisen
Dresdner Str. 81 - 85
1200 Wien
Tel: 01 -588 00 - 9412
Fax: 01 - 588 00 - 9381
E-Mail: n.sagmeister@ ruefa.at

Germany
Reisefieber Voss KG
Lehmweg 42
20251 HAMBURG
Tel: 040 - 48 06 30 10
Fax: 040 - 48 61 01
EMail: karibik@reisefieber.de

Switzerland
Sun Travels
St. Gallerstrasse 84
9500 Wil
Tel: 071-912 18 18
Fax: 071-912 17 72
E-Mail: info@suntravels.ch
Czech Republic
Marco Polo International
Novodvorska' 33
Praha 4, 142 00
Tel: 0241 713 623
Fax: 0241 710 693
E-Mail: ticket@marco-polo.cz

Siam Travel
Myslikova 12
120 00, Praha 2
Tel: 0255 700 870 - 4
Fax: 0255 700 870 - 4
E-Mail: siam@ini.cz

Scandinavia
Once in a Lifetime
Strandhøsvej 6
DK-2920 Charlottenlund
Tel: 045 39 90 87 70
Fax: 045 22 85 09 98
E-Mail: info@onceinalifetime.dk
The Netherlands
WRC-Reisen
Weteringschans 179
1017XD AMSTERDAM
Tel: 020 626 77 05
Fax: 020 620 61 89
E-Mail: info@wrc.nl

Expeditie Kroost
Klossterstraat 5
3401 CF Ijselstein
Tel: 030 6877949
Fax: 030 6874487
E-Mail: info@expeditiekroostenco.nl

Slovenia
Veronika Travel
Dunajska 113
SI-1000 Ljubljana
Tel: 01 565 50 94
Fax: 01 565 50 95
E-mail:
agencija.veronika@siol.net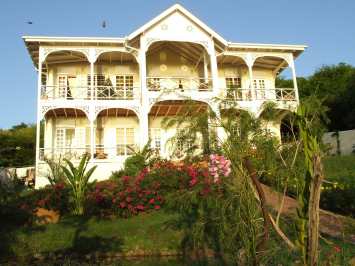 Office in Grenada, also the residence of the Austrian honorary consulate on the island
The best value for money
We are in steady contact with all providers of tourist services on our islands. We compare their offers and negotiate the best rates for you. This is possible because as specialists we have a big volume of bookings. By that we make sure that you get the nicest Caribbean holiday for your money from Caribbean & Sun.
Taking personal care
From the moment you send us a request you will realize that we care for you in a very individual way. You are not communicating with booking engines; you are talking to real people. We will treat you as a friend who wants to come and visit our wonderful part of the world. We will share with you our in-deep knowledge of the islands; we will suggest to you the most suitable accommodation; and we will do everything to make you enjoy the special features of our tropic paradise...

The whole world direct: from locally based specialists

Caribbean and Sun offers Caribbean direct from the Caribbean.

There are similarly competent specialists located directly in the travel destinations in other parts of the world as well, for example:
Argentina, Buenos Aires: Travel guide, city travel and adventure travel, hotels, Spanish schools.
Argentina, Spanish courses and cultural immersion programs.
Aspen, CO, complete directory of all Aspen luxury hotels, Aspen 4 star and 5 star Luxury Hotels and Resorts.

Cameroon, hotel reservations, tours, transportation, professional advice for visiting the country.
Georgia, cultural and culinary tours of the kaukasian country at reasonable prices.

Maldives, discover the islands in style: luxury vacations, honeymoon, beach vacations, spa holidays, diving.
Peru, Cusco, hotels and Lodging options in Peru: Cusco, Machupicchu, Ollantaytambo, Urumba.
Peru Tours, Dos Manos Travel Agency and Inca Trail Tour Operator in Peru. Adventure tours and excursions in Peru. Also trekking, hotels service. The best destinations in Peru as Machu Picchu, Puno, Arequipa, Amazon.
Peru Mountain Trail, the Inca Trail is a popular trek in Cusco Peru to the Inca ruins Machu Picchu, one of the wonders of the world.
Design
und Entwicklung by
bomotion.de